Palestinian officials are welcoming the election of President Joe Biden as a potential opportunity to negotiate with Israel on friendlier terms. But they are ultimately looking beyond the United States for international support—with an emphasis on China.
Just roughly a week into the new presidency, Biden administration officials signaled a desire to revamp diplomatic efforts with Palestinians with an announcement that they were reopening the Palestine Liberation Organization's offices in Washington and resuming assistance to the Palestinian people.
But even with this reversal, the new administration has shown no signs of walking back from some foreign policy decisions made by the Trump White House. Prominent among them is Secretary of State Antony Blinken's endorsement of the U.S. recognition of the disputed city of Jerusalem as Israel's capital and his call for an expansion of the Abraham Accords that normalized several Arab nations' ties with Israel, both of which have left Palestinians feeling sidelined and more isolated than ever.
Facing this new reality, Palestinian President Mahmoud Abbas prepares to deal with his fourth consecutive U.S. administration with mixed feelings.
Faisal Aranki, a PLO Executive Committee member who chairs the Department of Human Development, told Newsweek that, in some ways, the 16-year leader "seems to be cheering and welcoming Biden's victory."
"This was evident in Palestinian officials' support and praise of Biden's stance against Israel's annexation and settlement expansion," Aranki said. "This may be an indication of the Palestinian Authority's willingness to finally return to the path of political settlement and negotiations."
At the same time, Aranki said that Abbas "has become aware that it is wrong to be too biased toward the United States alone, while partnering with the international community and civil society organizations in the world in general."
And among the most attractive options for Abbas is Washington's top competitor, Beijing.
"The strength of the relationship between China and the Palestine Liberation Organization in the past, present and the future, calls us to fully cooperate with China," Aranki said. "I do not need to recall China's positive and firm stances in support of the legitimate rights of our people, and we are in constant communication with them."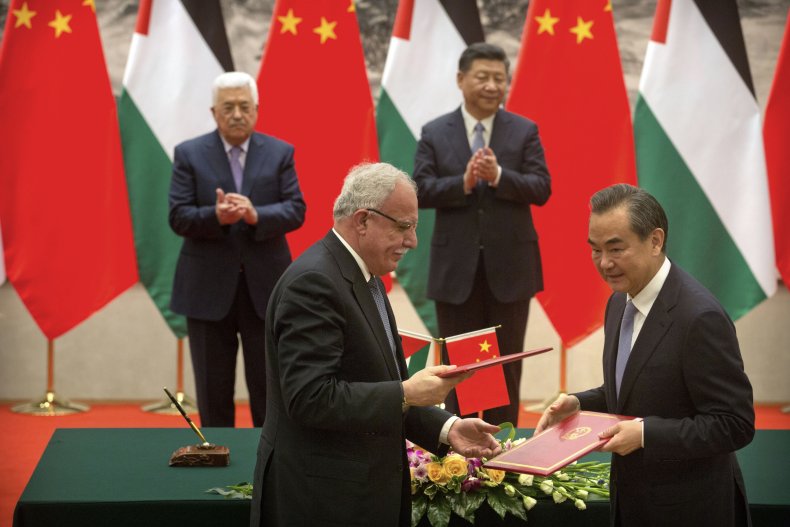 The People's Republic has greatly increased its economic and diplomatic capital across the Middle East in recent years, fostering ties with every country in the region, including both the Israelis and Palestinians. Growing Chinese influence worldwide has rattled the U.S., which has urged the international community to push back against Chinese investment, an appeal that has met with mixed results, at best.
Chinese Foreign Ministry spokesperson Hua Chunying referred to China as "Palestine's good friend and partner" during a press conference late last month, and Chinese President Xi Jinping weighed in on the issue in December to mark the United Nations-recognized International Day of Solidarity with Palestinian People.
"China attaches great importance to the Palestinian issue, always upholds international justice and morality," Xi said, "and supports the just cause of the Palestinian people to restore the legitimate rights of their nation as well as efforts conducive to the peaceful settlement of the Palestinian issue."
He touted the level of assistance Beijing has granted throughout the COVID-19 pandemic to the Palestinian territories, which do not have anything near the top-level access to vaccinations enjoyed by the…


Read More: Palestinians welcome Biden but are in "constant communication" with China