Late August 2017 was supposed to be a celebratory time for Joe Arpaio. The former Maricopa county sheriff had just received Donald Trump's first presidential pardon after being found guilty of criminal contempt of court.
The pardon meant Arpaio was spared a criminal sentence for a federal misdemeanor that could have included up to six months in prison. At a family dinner at a local restaurant the night he received it, he was barely able to touch his linguine with clams and calamari – he had been too busy fielding congratulatory phone calls and media inquiries.
But Trump's pardon could not redeem the political brand of Arpaio, then 85, who was once known as "America's toughest sheriff," nor would it help the president's own long-term popularity in Arizona. Arizona's electorate was changing, quickly. The state's extreme immigration laws and Arpaio's style of enforcement – which in both cases, federal courts had found some aspects unconstitutional – had inspired an energetic, grassroots resistance movement that was reshaping the politics of the state.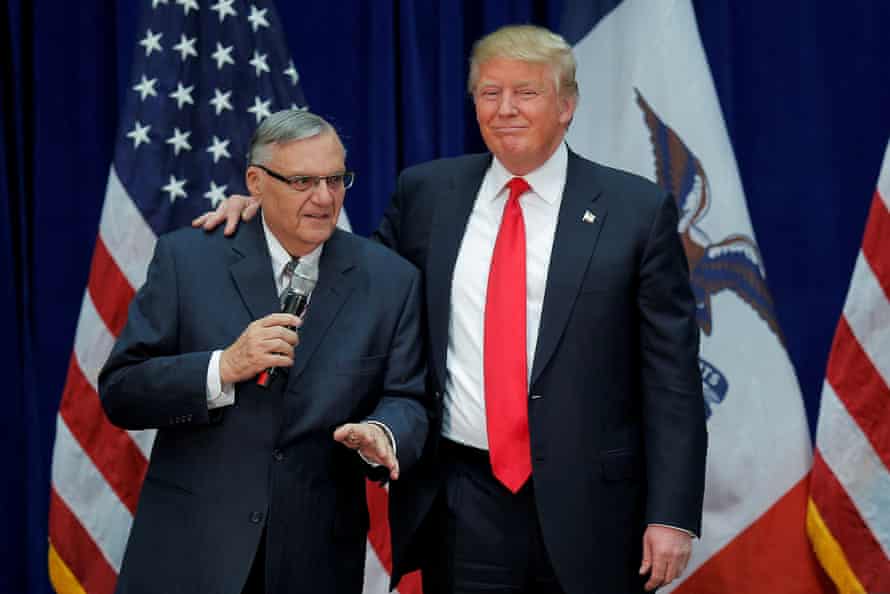 Instead of having his reputation reinstated with the Trump pardon, Arpaio was met with a fierce backlash. "I've got two new titles now," Arpaio told us weeks after he was pardoned. "'The disgraced sheriff,' that's everywhere, 'disgraced sheriff.' And the other one is 'racist.' … I lost my 'America's toughest sheriff' title."
Elected sheriff of Maricopa county – which includes Phoenix and Arizona's most populous county – in 1992, Arpaio once was one of the state's most popular politicians.
He grew up in Springfield, Massachusetts. His father, Ciro Arpaio, an Italian citizen, had immigrated to the US in the 1920s, a time when many Americans viewed Italian immigrants as criminally inclined, disease-spreading, job-stealing, shifty, swarthy-skinned invaders.
As a child, Arpaio said, he took in the anti-immigrant taunts, and pretended to ignore them. That's what you did back then, he said.
The immigrant's son grew up to be an unapologetic immigration enforcer, delivering the hardline policies that a growing base of Republican voters in Arizona supported. His deputies helped turn tens of thousands of immigrants over to Ice for deportation. They rounded up day laborers, raided businesses to bust unauthorized immigrant employees working with fake papers, and swarmed neighborhoods where they arrested undocumented drivers and passengers found after stopping cars for minor traffic infractions.
His tactics had helped nurture a climate of vitriol against Mexican immigrants in Maricopa county, not so unlike the anti-immigrant hate he had experienced first-hand. Arpaio launched an immigration hotline in 2007 "for citizens to report illegal aliens." Sheriff's office records show the move unleashed a flood of tips.
County residents wanted Arpaio to investigate their immigrant neighbors and check out a local McDonald's where the staff suspiciously spoke Spanish. An anonymous hotline caller expressed a desire to "shoot" a Mexican-born activist who was one of Arpaio's vocal critics, "if I could get away with it."
Arizona's bitter immigration wars, and Arpaio's role in them, helped his political brand – for a time. He had been re-elected to a fifth term, his last, in 2012 when he was 80. But his immigration stance led to his political downfall the following election cycle.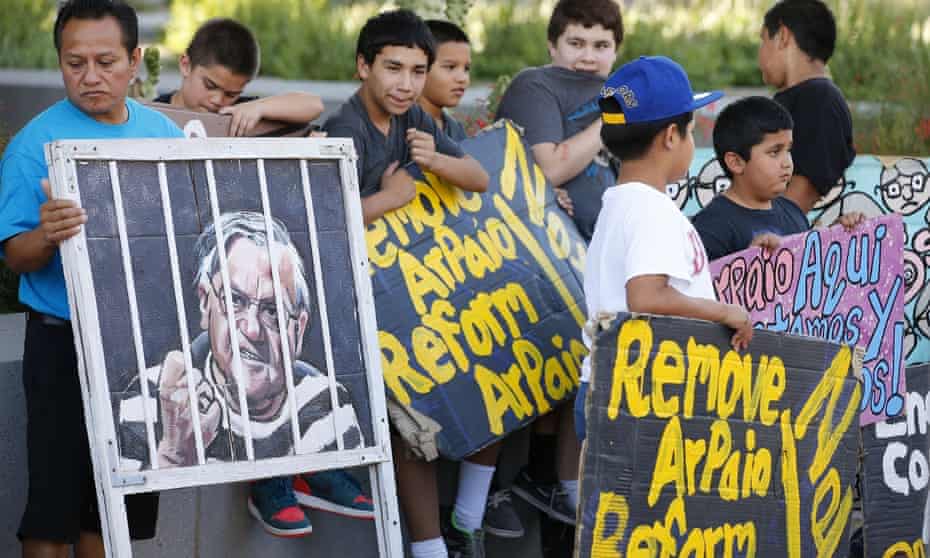 In 2016, a Latino-led grassroots movement that had spent the previous decade protesting the sheriff's immigration enforcement tactics, collecting evidence for lawsuits, empowering immigrant communities to know their rights, and registering new voters, had focused their energy on their biggest voter…